Welcome to Systematic Sales – "Virtual Experience – Real Content".
Systematic Sales is a collaborative training method for sales teams. It is designed to support and help sales organizations to implement and enhance the adoption of complex sales processes. The concept combines systematic sales approach, education, storytelling and gamification into one coherent ONLINE training package.
The concept integrates components of customer buying journey, value-based sales and digital tools in a modern way. Systematic sales approach is a match for Business to Business sales, especially where the purchase is considered "complex" or there is more than one person involved in the buying process.
This environment is a combination of ONLINE training course with gamification elements. In the course you will meet recorded videos, technically animated story (game) followed by interactive quizzes and supportive workbook materials (pdf) and practical sales tools that you can download right at the start.
During the course you will learn a dynamic step-by-step approach for first understanding and shaping your buyers concerns, then helping those same buyers visualize the capability of your offerings.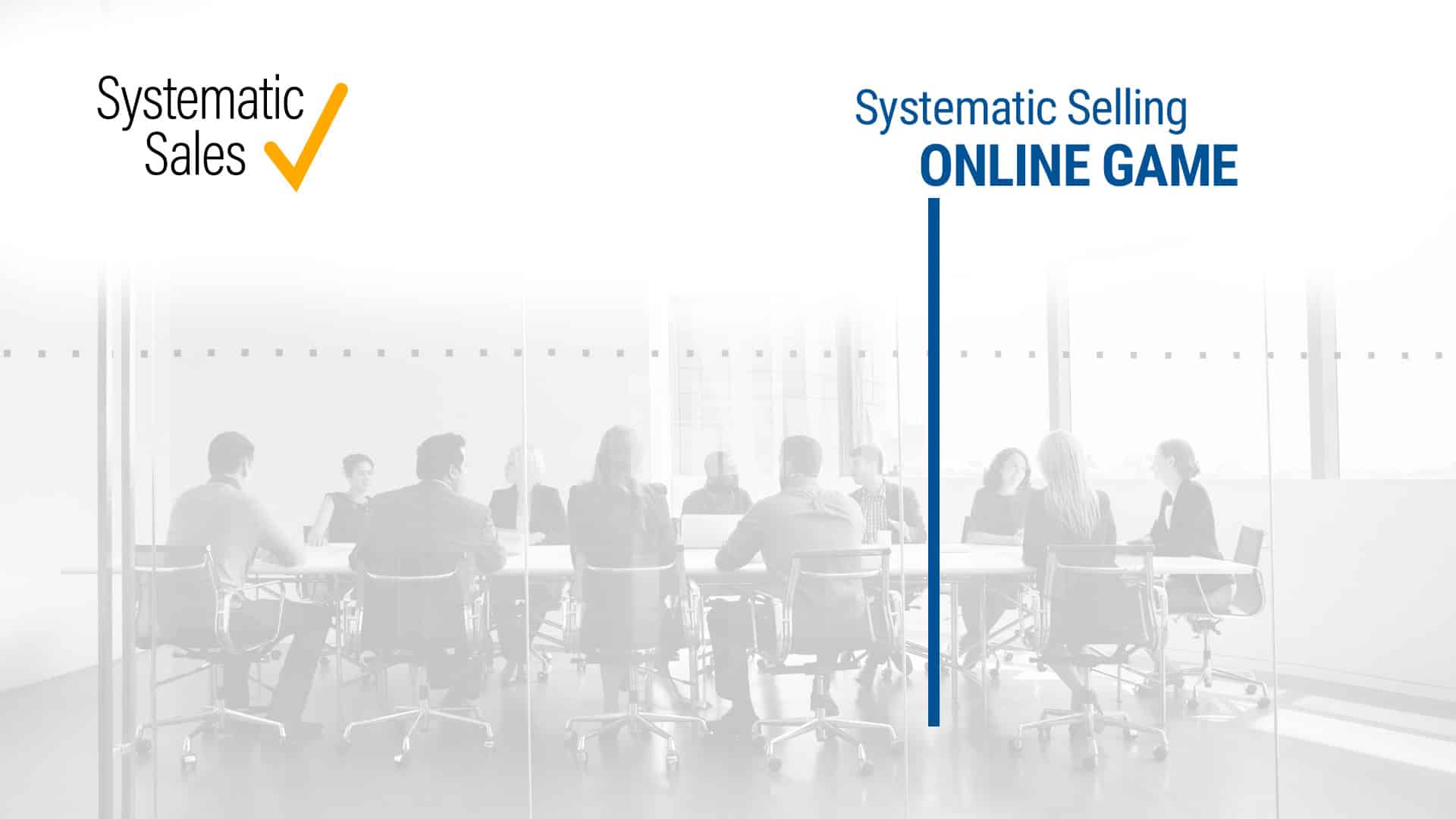 10 modules – synchronized with the story
33 educational videos,
41 animated stories
8 downloadable check list and concrete tools
6 pre-scheduled group reflections (corporate version)
Systematic sales Game is a remote education method that is based on narrative case learning. The objective is to unlock the secrets of successful sales teams and systematic sales behavior as follows:
• How to utilize team competences in sales
• How to proactively facilitate the customer buying journey
• How to identify and a build value to the customers
• How to implement a systematic sales method and terminology across the company
The Game is based on two elements: individual learning and real sales case development with facilitated follow-up activities. Each participant learn individually but the case reflection will be done in teams.
Want to know more? Please contact:
Petteri Laine
+358 50 322 9107
petteri.laine@systematic-sales.com
Systematic Sales Game is a modern ONLINE course designed to deliver meaningful content in a virtual environment. The experience was engaging. The Game walks you through a complex, B2B sales process where majority of the selling events happen remotely. The key aspect is the narrative story: it helps to visualize how to apply the concepts and strategies learned during the course. The Game helps to memorize and link the events in real life and increases your ability to absorb the content in a fun way! Hats off! This is cool. Highly recommended!
Fernando Serra, Global Product Manager, HILTI Group
I had the opportunity to participate in an innovative training that presented negotiation modules using "gamification". This emphasized the absorption of knowledge through systematic learning content. The whole context was based on a very engaging sales story, bringing everyday themes like selling a systematic solution. A team trained in this platform will certainly be engaged and deliver results and increase productivity.
Helcio Penser Theotonio, Brazil
I have not normally been very interested in web based self-learning tools. I have found them boring and uninteresting. This Game-based cocept changed that. The Systematic Sales ONLINE game got me interested from the start. Short videos and work files that helped to build understanding about the sales method and animated videos with check questions to see and better understand how they are applied in practice kept me interested. It was easy to use and digest in small parts when I had the time and mood to do it. The way the process is presented is very target oriented & practical and brings sales practices to 21st century with participatory and co-creative interaction with client still keeping tight sales focus. I got many insights that I have already used in my client work with success!
Pertti Helminen, Leadership consultant, ICG
My sales gamification experience was very positive, to start with I took it as a serious learning experience. Challenge was clear and engaging from the beginning and the storyline was structured to logical pieces. Each chapter was accompanied with corresponding piece from systematic solution selling framework providing real and systematic learning experience. I feel that I learnt more in building complex sales case based on highly efficient and target oriented team work.
Miika Keurulainen, Service Solutions Sales Manager, MetsoOutotec